Beautify your life with living art.
Shawn L. Vieth, LLC. Landscape Design and Flower Farm
Looking to beautify your property?
Look no further than Shawn L. Vieth, LLC, a woman-owned landscape design company and flower farm in Waterloo, WI.
My passion is colorful, low maintenance plants and shrubs, and I help proud homeowners realize their garden dreams by designing ideal landscapes to accentuate their homes. My specialty is easy plant maintenance done while you're away, so you can pull up to your driveway and enjoy the view (instead of being stressed by it.)
Enjoy the beauty of nature all year long with seasonal flower bouquet subscriptions grown on my sustainable flower farm! Current season bouquet pick: Peony and Iris.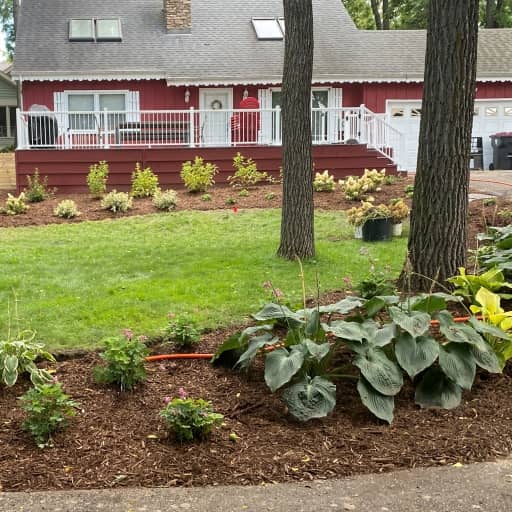 Surround your home with botanical beauty.
Landscape design
Overwhelmed by all the choices for your landscape? What's the difference between partial sun and partial shade? Is my soil alkaline or acidic? The answer is having the right plant in the right place. Get help in designing a landscape that incorporates elements you want to see in your surroundings, all while ensuring you and your new plants are happy and taken care of.
Landscape maintenance
Need help caring for your landscape? I personally provide the tender loving care your outdoor spaces need to look beautiful and healthy. From deadheading to pruning, I take pride in keeping your property in beautiful shape.
Consulting & onsite teaching
Want to try the DIY approach to creating your own landscape masterpiece? I'm happy to meet you on your property for a consultation so you can adopt my tried-and-true best practices. I love helping homeowners create their own wow factor.
Flower farming
Get yourself flowers. Our seasonal bouquets are created straight from my flower farm with fresh cut flowers that you won't find at a typical florist. Enjoy blooms from sweet peas in spring to regal dahlias in fall. Try our subscription!
Why hire Shawn
Sharing my passion for botanical beauty in landscape and sustainable floral design is my calling. I learned that the landscape industry needed me: a friendly hard-working woman with heart. Now proud homeowners count on me to transform their outdoor space into living masterpieces.